The idea of a sequel emerged soon after completing the original:
"Should Nikolai score a boxoffice bullseye with audiences, chances are good he will return to the screen for another assignment. Although there is no sequel written yet, the filmmakers agree that a second picture will take the Russian convert to another exotic location. [...] While Lundgren feels there is room to develop Nikolai, he anticipates expanding his range of acting roles." in Prevue # 73 vol. 2 n° 33, October 1988
"Under reserve for Dolph, the project Red Scorpion II, on which director Joseph Zito is working, waiting the star gives his agreement. Red Scorpion II would be set somewhere else than Africa..." from Impact (France) Nr.26 April 1990 (translated from French)
"Since recently, Dolph Lundgren owns the privilege to weight on a film's orientation and his character's contruction. Without the ex-Punisher signature, a project can stay a treatment for eventual buyer. Masters of the Universe, Red Scorpion 2, The Punisher 2 and even the sequel of Cover Up... The list of sequels projects on Dolph's agent desk is long." from Impact, # 30, December 1990 (translated from French)
"What is the worst career advice you have ever been given?
Red Scorpion 2, perhaps?" [from Premiere (UK), July 1995]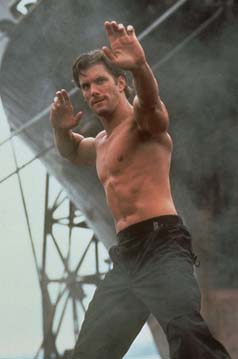 Now, only the producers (Jack and Robert Abramoff bros. (who aimed launching Lundgren to stardom after they saw him in Rocky IV) come from the original team. It ended as Red Scorpion 2 directed by Michael Kennedy and starring unknown Matt McColm. It is a very poor straight action movie that doesn't deserve to be the sequel of the African Dolph adventure, for it betrayes it completely.