Dolph Lundgren was quite ready to do it for a while, saying it was his best role yet, and the production seems to have been announced. But promised as Lundgren's real breakthrough role, The Punisher, which was to compete with Batman that summer '89, unfortunately didn't have a theatrical release in US (due to the sale of New World Pictures) whereas it did worldwide. Later, while promoting Universal Soldier, he wasn't as enthusiastic about the way the original film turned out.
"If The Punisher had a sequel, would you do it? -Oh yes, I would, it's a very squared guy in the legend, but in the film he's unpredictable, that's what pleases me, he talks to someone and suddenly he becomes crazy, he explodes." Dolph Lundgren in Cine-News, #19, January 1989 (translated from French)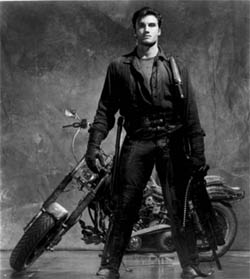 "But that doesn't mean I wouldn't do a second Punisher film," "I like Mr. P. He's a cool cat." Lundgren in Comics Scene, #9, Summer 1989
"Dolph Lundgren will have to decide in between for a potential Punisher II. The New World is waiting for his signature, when the first, big success all around the world, still wasn't released in the United States." Impact, # 27, June 1990 (translated from French)
"Masters of the Universe, Red Scorpion 2, The Punisher 2 and even the sequel of Cover Up... The list of sequels projects on Dolph' agent desk is long."..."He mentions The Punisher with some kind of sourness, bypasses Dark Angel, avoids straight Masters of The Universe..." from Impact, # 30, December 1990 (translated from French)

"It's hard for me to criticize a product, because I don't like to mention names. It just deserved a better fate. Actually, when I watch The Punisher now, I think I was pretty good in that role, and I looked really good. I think it was all there; it was just the production values and everything that didn't add up to what it should have been," ...
"They didn't put enough time into everything --the story, the development, the picture's look. There was many things that could have been done better,"..."if I did it over again, I would make sure it was a better picture before I signed onto it. Back in '88, I wasn't as experienced and I couldn't really judge some of the things that I can judge now, and I think that's the difference." Dolph Lundgren in Starlog, n°181, August 1992
" "The Punisher." -"Um", thinks Dolph, "what can I say about The Punisher? Um." "Nothing?" -"I don't know what to say. I had a special Harley built for me?" " from Movieline, volume VI n°10, July 1995