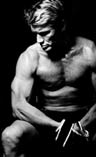 Rocky IV
(1985)

When Rocky's old friend Apollo Creed is killed during a fight with a superfit Russian boxer Ivan Drago, Rocky blames himself for the death when he could have thrown in the towel before the crucial moment. Fuelled by the Russian's arrogance, Rocky arranges a fight with the new champion, only this time in Russia.
| | |
| --- | --- |
| Sylvester Stallone | Director |
| Sylvester Stallone | Rocky Balboa |
| Talia Shire | Adrian Balboa |
| Burt Young | Paulie |
| Carl Weathers | Apollo Creed |
| Dolph Lundgren | Ivan Drago |
genre
Action / Drama
rating
PG
production co(s)
United Artists / MGM
budget
$31 million (US)
location(s)
Grand Teton National Park, Wyoming
Vancouver, BC (Canada)
(Drago) I must break you. (said in a very deep voice)
(Rocky) I see three of him...
(Paulie) Hit the one in the middle!
Dolph is amazing! Being his first major role in the movies, he truly set some great groundwork starring opposite Stallone in this flick. The movie itself is pretty good in its own right, but Dolph is just incredible - he doesn't get to say too many lines (the ones he does are classic, however), but just his presence on the screen is so powerful. Watching his character Ivan Drago go head-to-head with Apollo Creed and then Rocky, you can't help but be in awe of him. For very good reasons, this is the movie that launched his career...
buy this movie


- DVD
a ROBERT CHARTOFF IRWIN WINKLER production "ROCKY IV"" SYLVESTER STALLONE TALIA SHIRE BURT YOUNG CARL WEATHERS BRIGITTE NIELSEN DOLPH LUNDGREN as Drago music composed by VINCE DiCOLA director of photography BILL BUTLER, A.S.C. executive producers JAMES D. BRUBAKER and ARTHUR CHOBANIAN produced by IRWIN WINKLER and ROBERT CHARTOFF written and directed by SYLVESTER STALLONE
back to top