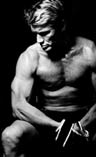 Why a Dolph Lundgren site?
Why would I take the time to put together the definitive source of information on Dolph? For a number of reasons actually...
- there really is only one small site dedicated to the man (with little information)
- there is a wealth of information on Dolph scattered around the web, but no comprehensive guide to it all
- the only somewhat extensive index to Dolph's movies is the Internet Movie Database, and constantly going there to find out information was getting pretty tiring

But probably the biggest reason as to why I put this site together is because Dolph is easily one of the most underrated actors around and (being such a huge fan) I wanted to create the most comprehensive source of information, reviews, pictures, etc. on him...


This is not an official site, and you cannot write to him via this website. This is totally a fan-appreciation site and is not connected to Dolph himself...

Can I submit some new information, pictures, etc.?

Absolutely. I've scoured the web for everything I could find on Dolph, but there's always going to be more information that I don't have, new gossip that I haven't heard, or new pictures that I haven't seen.

If you would like to contribute in any way to this site (or even if you just have some comments or feedback), drop me a line at e-mail me...