The project was first announced early 1990 with the only concept of reuniting both rising action stars Dolph Lundgren and Jean-Claude Van Damme in one movie called Universal Soldier. Several scripts were wrote, one of them by the previously attached director Andrew Davis.
- Screenwriter Ross LaManna (Rush Hour 1 & 2), who uncreditedly wrote the 3rd draft, remembers: "Not much to say about this one -- it was one of the many Carolco staff assignments I had during my two years there. I worked on it before Roland Emmerich came aboard. At the time, it was called Crystal Knights. As usual, the job consisted of trying to make the characters interesting and believable, and coming up with some fresh action scenes. The director attached at that time was Andrew Davis of The Fugitive fame.
One amusing thing about the project stays with me: for some reason, even though it was in pre-production and they were about to start building sets, no one could decide if it was going to be shot in Mexico or in Eastern Europe. So, in the production offices, someone had pinned up a big map of Mexico, but had pasted the names of Eastern European cities over the Mexican cities' names.
Dolph Lungren, who played the bad soldier, is another person who defies typecasting. In reality, he is charming, easygoing, and has an advanced degree from MIT. " from Ross LaManna
- Universal Soldier was "primed for Portugal, Hungary and the US there's an actioner about genetically-engineered infantrymen which will also star martial-arts movie star JeanClaude Van Damme" from Film Review, September 1990
- "Produced by Craig Baumgarten, UNIVERSAL SOLDIER was originally to be directed and co-written by action-thriller specialist Andrew Davis, [...]. However, after months of development, pre-production, and location scouting in Mexico, Mario Kassar replaced Davis in February 1991. Apparently, the Carolco executive was concerned about the budget, which at that time included extensive computer-generated opticals."
"[Michael] Burnett and his new partner Larry Hamlin were among the few survivors from the earlier version of the project. "It became a makeup effect movie as opposed to puppet or mechanical effects," noted Burnett of the changeover. "Originally, the characters were like bionic men. We built an articulated dummy of Dolph for close-ups when you'd see biomechanics working under the skin. We would have been developing a lot of new things. Puppets are one of the hardest things to do convincingly."
"In the old version," added Hamlin, "Andy Davi wanted full-body nude dummies just so the actors wouldn't have to be suspended in water tanks. Once they got the bill, they decided the actors were making enough money to get wet."
The molds of Lundgren were salvaged to make a dummy for the character's demise." from Cinefantastique, September 1992
- "Also co-writer of the film, Davis [Andrew] had concepted the Universal Soldiers like bionical men. A Six-billion-dollar Man reactualised in a way. Thus, several sequences should reveal the internal mecanism moving the muscles of the robot warriors."
"Under the impulse of the ambitious director, the futuristic action film formerly thought was more and more taking the aspect of a sci-fi movie. "
"Davis was counting on using expensive computer generated images for numerous scenes, including his cyborgs point of view." from SFX magazine, September 1992 (translated from French)
The completed film is based on a screenplay by Richard Rothstein & Christopher Leitch that was rewrote in March 1991 by Dean Devlin when German director Roland Emmerich was hired. In the DVD audio commentary (UK & German special edition by Momentum & Kinowelt), Devlin tells that the Hoover Dam sequence replaced a classic hostage situation on an airplane in the script they were given.
The following clips appear in the "making of" and "behind the scenes" featurettes (appearing in the UK DVD by Momentum). It must be set after the unisols jump from the choper, they launch their grapnels to the Hoover Dam, climb and put their vision eye.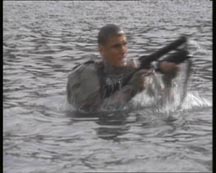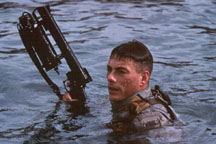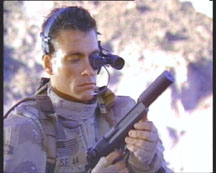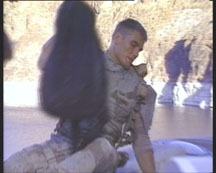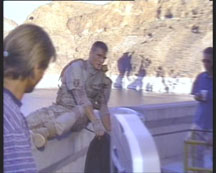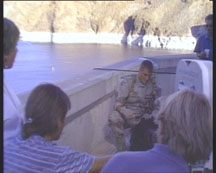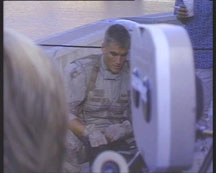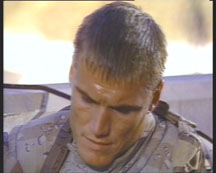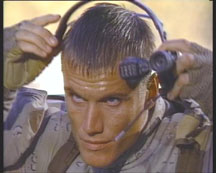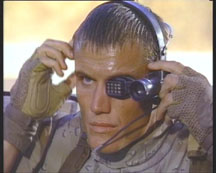 This (below) show them in the car chasing Veronica Roberts and her partner.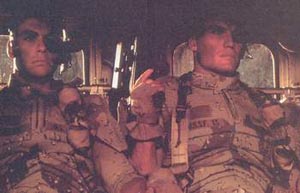 Unfortunately, the moment with Scott scaring mother and childs was deleted from the great supermarket scene.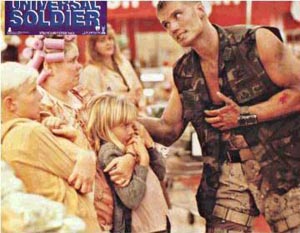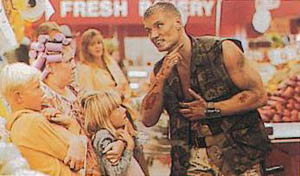 In his DVD audio commentary, director Roland Emmerich briefly tells about the former ending that was shot (and edited). It included a twist ending with Luc (Van Damme)'s parents being fake and Jerry Orbach's character (Dr. Gregor) coming with an army, apparently shooting him according to this picture (below).
"The first cut featured a truncated version of the final battle between Van Damme and Dolph Lundgren. Extra fight footage was shot." from Impact (UK), December 1993
WATCH IT HERE