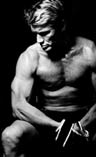 Roger Christian - Biography
Academy Award winner ROGER CHRISTIAN has had an extensive film career. He won an Academy Award for set decoration on director George Lucas' "Star Wars," which began a long collaboration between the filmmakers. Christian subsequently worked with Lucas on "Return of the Jedi" and was hand-picked by Lucas to direct the second unit on the recent "Star Wars: The Phantom Menace." It was through Lucas that Christian got his first opportunity to direct a film, the short feature entitled "Black Angel," which accompanied the UK release of "The Empire Strikes Back."Christian followed "Black Angel" with another short, "The Dollar Bottom," which won the 1981 Academy Award for Best Live Action Short Film. He followed that success with the thriller "The Sender," which received much critical acclaim and a nomination for Best Film by the Academy of Science Fiction, Fantasy and Horror Films. His directing credits include the 1994 Orion Pictures release "Nostradamus," starring Julia Ormond and F. Murray Abraham, the HBO premiere movie "Final Cut," "Underworld," starring Dennis Leary and Anabella Sciorra and "Masterminds," starring Patrick Stewart. Christian has also directed numerous high profile commercials, including worldwide campaigns for SEGA, Taco Bell, Jeep, Lancia, Fiat and Chrysler/Dodge, among others. Christian's work as an art director and production designer was highly regarded. He was nominated for an Academy Award for his art direction on Ridley Scott's "Alien."His other art direction credits include "Monty Python's The Life of Brian," Ken Russell's "Mahler" and Peter Hall's "Akenfield." Roger also directed the blockbuster "Battlefield Earth", with John Travolta and Forest Whitaker.
Roger Christian recently wrapped production on BANDIDOS, starring Angie Everheart, for Fries Film Group. Written by Carlos Gallardo, who also wrote EL MARIACHI, BANDIDOS continues the saga of the stylish Mexican thief who remains nameless. The same character was also portrayed by Antonio Banderas in DESPERADO (a remake of EL MARIACHI). In BANDIDOS, Carlos Gallardo reprises the starring role as the most infamous thief in Mexico.
Roger Christian is next set to direct Dolph Lundgren in the stylish Sci-Fi action movie: ALIEN AGENT. Dolph Lundgren will portray an extraterrestrial law enforcement officer intent on protecting Earth from a horde of evil aliens trying to invade and destroy our planet.