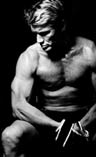 Long version: 96 minutes (USA, France, UK)
Short version: 91 minutes (Germany, Hong Kong). It has a different editing. It contains a 5 minutes long added prologue set in 999 A.D. with Templars fighting against the Minion (below), but it is also shortened of about 10 minutes of various cuts. This version also features a different soundtrack (apparently composed by David and Eric Wurst [Storm Catcher, the original musics of Agent Red, supervised by Stuart Bailey compiling the scores they composed for numerous Franchise Pictures films] but uncredited). This score is more classical, with some choir effects. I don't know which music is the first composed for the film. It really gives the movie a different rythm, slower sometimes, but not too much. A curiosity...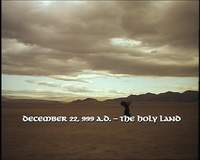 Opens in the desert. Title indicates
"December 22, 999 A.D. - The Holy Land"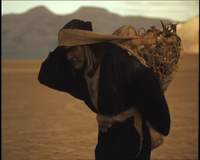 VOICE OVER
Earl in those days, there were known non-believers, for the sins and the demons to walk among us. My best friends and I were gathered from the farther to riches of the empire. We were friends, God's helms and gauntlet, masters of the sword and bows, soldiers and learned men. For as near as Constantinople, and as far as the highland of the Scot King. Name that we all serve the same Lord, the one at above us in Heaven. And we oppose that devil that defies the earth that was set against him. Good knights we were, sworn to protect Christendom Ire unto death, and to keep forever from the evil one, who sought to bring an end to the reign of light, the key that would set him free.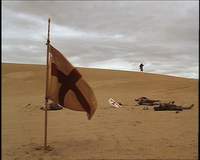 Now, at the end of the first millennium, the evil one was sowing the seeds of the Apocalypse. It was a thousand years since his minion has show his face.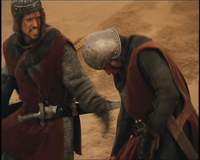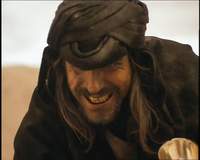 An evil spirit, vicious, deadly, unstoppable, leaping from body to body, conquering vulnerable souls, oblivious to pain and suffering, and sworn to unleash hell's furie.
TEMPLAR #1 (hearing a roar)
It is the beast! we must keeping moving!
They run. The Minion following them. Templar #1 stop.
TEMPLAR #1
My time has come, you must take it. (giving a purse, which must contain the key). A thousand year harrow, we have shelved this relic. Go to the sea, to Jarva. Go as farest as the wind will take you, to the end of the earth. It must remain hidden, it must. Promise-me!
TEMPLAR #2
I swear it!
Templar #2 moves while Templar #2 prepares to fight for his life against the Minion.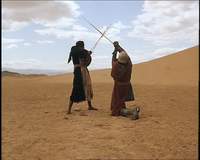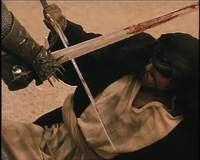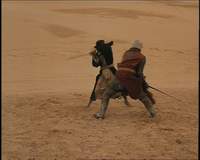 check out the deleted scenes!
Note : Running times used are for 35mm film (theatrical, which runs 24 frames/sec.). PAL & SECAM video (25 frames/sec.) make a film run 1/25 shorter (NTSC video keeps theatrical running time)