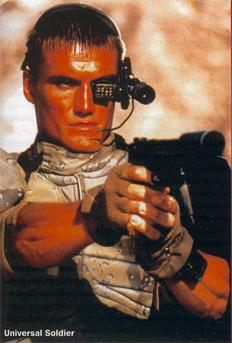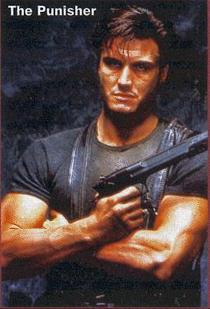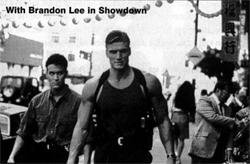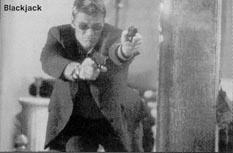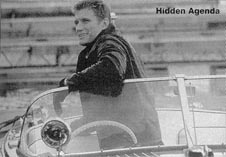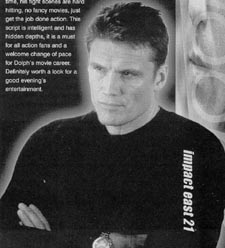 Dolph Lundgren Interviewed
By Tracy Baldock, Impact (UK), May 2002
Dolph Lundgren is living proof that brains and brawn do go together. Born on 3rd November 1957 and raised in Stockholm, Sweden, Lundgren attended the Royal Institute of Technology. Spending time abroad in the United States on various academic scholarships, he attended Washington State University and Clemson in South Carolina. In 1982, he received a scholarship to complete his Masters degree in Chemical Engineering at the University of Sydney in Australia. The following year, he was awarded a Fullbright Scholarship to the world-renowned Massachusetts Institute of Technology. While on his way to Boston to continue his studies, he stopped in New York City and there his life took a radical turn.
While working at the trendy Limelight Disco along side actor Chazz Palminteri, Lundgren met with noted drama coach Warren Robertson, and decided to give acting a try. Lundgren made his feature film debut in the James Bond movie A View to a Kill (1985), which co-starred his then lover Grace Jones. He followed that by beating 5000 other hopefuls to land the breakthrough role of Ivan Drago, Sylvester Stallone's opponent in Rocky IV (1985) . The success of this film led Lundgren to star in numerous films including Masters of the Universe (1987), The Punisher (1989), Showdown in Little Tokyo (1991) opposite the late Brandon Lee, Universal Soldier (1992) and Johnny Mnemonic (1995). In 1993, he starred in Pentathlon (1994), an action-drama which his production company, Thor Pictures (also known as Red Orm Productions) financed.
While most of his films tend to typecast him as a bicep-bulging hero, Lundgren is also a founding member of 'Group of Eight', a New York theatre group started in 1994 which performed Another Octopus. A world-class athlete, Lundgren took up martial arts at fourteen and has achieved a third degree black belt in Kyokushinkai Karate. His accomplishments in the sport include the captaincy of the Swedish full-contact Karate team and the winner of the European Heavyweight Full-Contact Karate Championship in 1980 and 1981, as well as the Australian heavyweight division title in 1982. Lundgren's lifelong interest in physical fitness led to his 1987 workout video called Maximum Potential. In addition to his Karate expertise, he was selected to serve as the Team Leader of the 1996 U.S. Olympic Pentathlon Team. He dated model Paula Barbieri who was also O.J. Simpson's ex-girlfriend and is now married to Annette Qviberg Lundgren, a jewellery designer and fashion stylist. The couple divide their time between London and Marbella, Spain. Their first daughter Ida was born in April 1996. He speaks five languages, Swedish, English, German, French and Japanese.
Tracy Baldock: Mr Lundgren can you tell us how you got the part for a View To A Kill?
DL. . It happened that my girlfriend at that time was Grace Jones, who I had met in Australia when I was studying engineering there in 1982. She was shooting the picture in France, and at the time I was doing some modeling in New York and studying a little acting. I was standing there on the set, and the director John Glenn basically needed someone to point a gun at Christopher Walk den, he saw this tall blond guy at the back, so he picked me out, and I said sure I'll do it. I'm gone in two seconds, if you blink you miss me in the movie. But afterwards, he said, "Well you hit your mark and you may have some talent". So I guess I took some kind of encouragement from him that I had a future in films.
Did you do any theatrical training before or after that brief acting experience?
Yes, I started in 1983-84 and studied in a workshop called the Robertson Workshop in New York, and did some general dramatic training and actually Warren was one of the people who helped me get a photo off to Sly Stallone. I was turned down at my first audition for Rocky 4 for being too tall, I was 6ft 5in and you were supposed to be 6ft 3in maximum. I didn't know what the casting call was for and I just showed up, they asked me how tall I was, I said 6ft 5in and they said "Next". When I realized it was a Rocky picture, I used some of my last dollars to get a black and white photo of myself in boxing gear, and I was able to persuade my acting coach to get the picture to Sly Stallone. Around the time I was doing the walk on part in View To A Kill, they called me in Europe, that was Paramount, they asked to see me and Sly wanted to meet me so they flew me to Hollywood. I met him at Paramount studios at the time he was about to start shooting Rambo 2. He had long hair and looked in good shape. I walked in there, he took one look at me, and I took a look at him, and I guess he realized he had his man. He had folders of pictures which he showed me of guys looking to be his new opponent in this Rocky movie. I guess when he saw me he realized he had got what he had in his mind, this big Swedish kid and a martial arts champion he had never heard of.
Did you have to do a lot of training for Rocky 4 or were you in shape anyway?
I was in very good shape. I was training in Karate and competing, and I was exercising for two to three hours a day, but I wasn't big enough, he thought I should put on some more muscle. This was because I wasn't lifting weights at that time, so he said I needed to gain twenty pounds... I changed my training and used a lot of weights and trained for another six months after I saw him. And also after that period I had to meet the producers, they came to New York where I lived at that time. I finally got the monologue that I was going to use for the audition, and they used it in one of the trailers on Rocky 4 where they used a Dolly shot. The camera moves around me starting from my feet up to my face, and I have this monologue in which I say, "I'm Drago, I'm a Russian fighter, I'll fight the fighter for the United States." Something like that.
They flew me out to California and I stayed in some cheap hotel, and then they would pick me up, throw my suitcase in the back of a station wagon, and we went to this other hotel and I got a small room there. I was of course training at the time and I was in pretty good shape by then. I was very rippled, very muscular. I was twenty-six years old and in peak form. I practiced this monologue and I had this idea that I was going to underplay this character not make him scream or get very violent. When I went down for breakfast one day before another audition, the elevator opened and there was this guy 6ft 5in blond, muscular, a mirror image of myself. Then I saw a third guy in the lobby, so I realized that I wasn't alone, there were still people up for the role. So there were three of us left, and we went to the sound stage of one of the studios, I think it was MGM, and got changed into boxing shorts and gloves. I did my monologue, so did the other guys and they were ranting and raving and screaming, but I wasn't. There's fifty people behind the camera, lots of Sly's bodyguards and men in suits and lots of people I've never seen before, so it was a little bit of a nervous occasion. A week later he gave me a call and said I had got the part. I moved to Los Angeles and never looked back really, that was in 1985. And then the circus started.
You starred in Masters of the Universe and Punisher, do you think that you were trying to be type cast by the studios as a comic book superhero?
They have succeeded, that's where I've been and that's what people want to see me do in movies. As I think back, it's probably a role I should have done more of, but you always want to try something new, to see if you can do something different. As I look back some of the best parts are comic book superhero type roles, and if you look like me you don't have to do that much, you're a different physical specimen and you don't have to work for it.
What was working on The Punisher like? Did you enjoy it, was it an interesting movie?
Yeah, I did enjoy it. Robert Kamen was the screenwriter, he also wrote the The Karate Kid, he is a martial artist in Gojoryu Karate and he had good talks with me and my instructor Brian Fitkins. I did enjoy the martial arts atmosphere, it was the first time I got back into the martial arts after Rocky 4, I'd given it up in 1983 and stopped competing and decided not to fight in the world championships, even though I'd had a good chance of doing quite well I think. But I decided not to do that and go into movies and this is 1988, five years later I have a chance to do martial arts in the movies, so that's what I enjoyed about The Punisher.
What inspired you to do the movie Showdown in Little Tokyo?
It was a Warner Brothers picture and that meant that the movie would have good distribution. The director had just finished doing Commando with Schwarzenegger, so he had good credentials. There was a young kid called Brandon Lee who was supposed to be in the picture, I didn't know anything about him, so I didn't think about that too much. The script was pretty good and it was another martial arts driven movie, so I thought why not, this film has a lot to offer. But Brandon turned out to be one of the main assets of the picture, which I didn't realize at that time, but I did as soon as I met him.
What was Brandon like to work with? How did you respond when you first met him on the set?
I was a bit of the old '80s type of action hero I guess, typical big guy, real athlete, strong physically, imposing, very much like Schwarzenegger is that way and Stallone is in some respects. Brandon was a new type of action hero, a younger guy, a bit like Keanu Reeves, charming, good actor and very ambitious, physically able, good physical skills even though he's not a real fighter or a real athlete. But I think I realized when I met him that this guy was going to be a star, he had all the right ingredients, ambition, the smile, the physicality and the appearances of a good actor, funny and all of that stuff, so it was too bad what happened to him.
Did Brandon show any anxiousness in doing what was his fourth movie?
No, I don't think so, he was just very keen to do well. He was very ambitious, more ambitious than I had ever been, he really did want to be a big star and he wanted to do well, and he wanted a different method of fighting in the picture, more acrobatics, doing stunts and flips and things, which at that time was not really common-place. It was before John Woo and Jet Li and wire work, so he was quite ahead of his time there.
Can you remember any incidents on the set of Showdown in Little Tokyo?
Brandon did insist in doing a lot of these flips and kicks, back flips and front somersaults and I was the old school. We had, lot of good moments, he was a very good kid, he looked up my instructor who was showing me stuff, and who also helped Brandon and helped him to develop some moves. He was very much a learner, the best laugh we had was in the hot tub scene with Cassandra from Wayne's World, Tia Carerra. Brandon has a good line in the movie which we had fun filming, it is about my anatomy which was quite good.
The buddy-buddy cop relationship seemed to work in the movie.
Yes, it was a good relationship off screen as it was on screen I remember being invited to his 25th birthday party, he was with his girlfriend and they were just getting engaged. It was at a great restaurant in Los Angeles, it was a real good time, and he was laughing and telling me about his new MX Sports Car, he was really on top of the world. He had a new deal for another picture. That's how I like to remember him.
What was Van Damme like to work with on Universal Soldier?
I think he was just starting to get famous, he had to deal with his new found fame at that time. I think what the picture did for him was to bring him down to earth a little bit, because now he is co-starring with another action guy who is bigger than he is, I mean physically bigger, and there was a competitive edge there. I did. We really had to train, we really had to focus, we couldn't mess around too much. There were no late nights or anything like that on this picture, because he knew I was going to turn up in top shape, and I knew he was going to show up in top shape. So we did train a lot together and we had a good time doing the fight scenes. We were trying to put some humour into the picture because my character is a crazy ex-Army sergeant who's now come back from the dead. So there was a lot of levity on the set, a lot of laughs, trying to figure out what moves to use, how to make his balletic kicks contrast with what I did, which was to pick somebody up and throw them through the window or break somebody's neck or cut their ears off.
One of your favourite movies was Men of War, could you tell us a little bit more about this movie?
Well it's not probably as polished as Rocky 4, Blackjack or Universal Soldier, I enjoyed it because we had a great time on location in Thailand, which was Krabi Province on PP Island where they shot The Beach with Leonardo DiCaprio. We were there when it was undeveloped, living in a hotel right on the beach and every day after work you could go for a swim, you could go scuba diving, whatever. The script was written by John Sayles who is an academy award winner and writer director, and he wrote this old fashioned action adventure story about a bunch of guys, mercenaries who all get hired to go down to this little island and convince the natives to sign over the mining rights. The leader is this guy, my character, who is an old commander and wants to hire his mates for the job who are all washed up drunks and nobodies. Of course when they get down there, things aren't what they seemed to be and they take to these natives and finally part of the group decide to stay and fight to keep the islanders from being picked over by the mining company. The other part of the group decide to go with their employers so it's quite interesting, a simple but elegant set up for a movie. You have a lot of pretty good actors in different roles because the director Harry Lang was an actor, also he knew John Sayles and he knew a lot of his actors and got a lot of guys to do it sort of as a favour. The combination of that made it a very interesting shoot.
Let's move onto your new movie Hidden Agenda, you say this movie hasn't got a lot of action in it, so what's interesting about it for you?
It does have some martial arts action in it, it does have some fights and I did try to put three or four good fights in there, but I think you cannot change the whole concept written around the original idea, which was more of a who done it, a thriller. It involves the FBI and the CIA, it's a conspiracy picture and I think what the director wanted to get across is more of an intellectually challenging picture rather than seeing blood being splattered on the screen, which I think is exciting.
Were you happy with the end result of Hidden Agenda?
Yes I think so, I think for what it was I was happy. I did think that the director had a vision and he accomplished it and what I'm realising is, as I said before, that actions speak louder than words. Even in a more complex story structure you can still do more with less, which was another experience to take with me for the future.
Talking about the future, are you still looking towards doing movies?
Yes, I took a year off. First of all we had another daughter, who is now three months old, so I wanted to spend some time with my family for that. The job has moved from New York to London and Marbella, so sometimes I 'm in London and sometimes in Marbella, Spain and I spent a little more time out there on some business ideas. I had to be a bit of a business man and not only an actor, but I do want to stay in movies and I'm looking forward to my next picture. We're looking at three different projects, but things got a little slow there for a while because of the September 11th attacks and all that. Hopefully we will start something by the summer.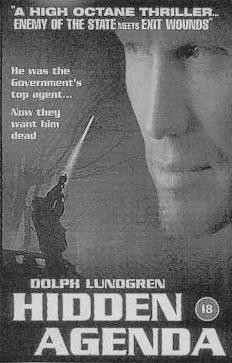 Hidden Agenda
Although some of Dolph Lundgren's last batch of 'B' action movies have not been up to his Rocky 4 and Universal Soldier best, Hidden Agenda definitely delivers the goods.
The story leads us onto the case of former special agent Jason Price (Dolph) who erases identities. If a witness wants protection or a deep-cover agent needs to disappear, Price's Daedalus network can loose them for good.
Unfortunately a ruthless contract killer infiltrates the network and its impregnable security is blown, suddenly no-one under their protection is safe.
Leaving a bloody trail behind him, the hit man threatens to destroy Daedalus and the lives of everyone sheltering in its labyrinth of new names, new cities and new identities.
Price is determined to stop the killer before it's too late, and in a world of half-truths, full blown lies and where nothing is what it seems, everyone has a hidden agenda.
This is by far Dolph's best film in a long time, his fight scenes are hard hitting, no fancy movies, just get the job done action. This script is intelligent and has hidden depths, it is a must for all action fans and a welcome change of pace for Dolph's movie career. Definitely worth a look for a good evening's entertainment.