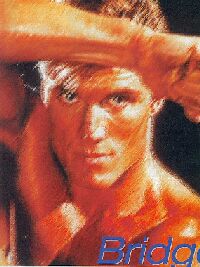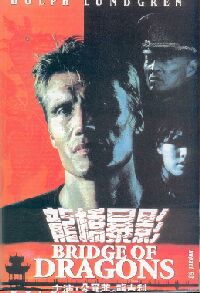 Bridge of Dragons
By Mike Leeder, Impact (UK), August 2000

Right click HERE to download this article in PDF to your computer's desktop.
Macintosh- "option-click" to download.

While numerous B-list action stars seem to have disappeared from our screens in recent years, one man who continues to work is Dolph Lundgren. His most polished recent film is Israeli director Isaac Florentine's Bridge Of Dragons from Nu Image.
According to the credit role, the film is set in a time when the future meets the past. It's a strange land that looks a lot like Eastern Europe, has civilians running around dressed like turn of the century Russian peasants, and heavily armed soldiers in WW2 German Army themed uniforms. The King of this strange land has died under mysterious circumstances leaving an evil general (Cary Hiroyuki-Tagawa) in command. His beautiful daughter, played by Rachel Shane (formely Valerie Chow Kar-ling), wants to bring peace and freedom back to her ravaged land, and enlists the help of the ever heroic Dolph Lundgren and his team of commandos.
It's a strange film but definitely Lundgren's best in a long time. Director Florentine, who cut his teeth directing endless episodes of Mighty Morphing Power Rangers and WMAC Masters, not to mention the Shannon Lee actioner High Voltage, certainly knows how to get the most out of his budget. The film has an epic feel to it, is beautifully shot by cinematographer Yossi Wein, and the story barrels along with enough pace to cover any plot holes. (Perhaps someone could explain why the only on-Caucasians in the movie are Princess Rachel, Cary Tagawa and the Alpha Stunt-guys?) Lundgren looks his most heroic in this film, and gets a nice chance to let loose with his martial arts skills, courtesy of Alpha Stunts. The ever lovely Valerie Chow (oops, Rachel Shane as she's now known) was never really a battling babe in HK cinema but her work in this and in the Once A Thief TV series makes you wish she'd shaken a leg or two in a HK movie. The ever-reliable Cary Tagawa delivers a suitably menacing performance, as does former PM and herotic thriller regular Gary Hudson as Lundgren's sidekick.
Highlights include a bone crunching fight on Shaolin poles where both Lundgren and Ms Shane make use of some artful doubling to look their best, nicely choreographed gunplay sees Alpha Stunts performing some incredible acrobatics, and the no holds barred finale where Lundgren and Tagawa face off for battle. If you're a fan of HK action, check out any movie Alpha Stunts have worked on, they can give many HK choreograpahers a run for their money and their choreography would have been far more suitable for Romeo Must Die than all that flying around on wires courtesy of Yuen Kwai. Also watch out for Alpha Stunts' own movie, Wicked Game, starring Johnny Yong Bosch and Japanese action actress Motoko Nagino which is coming soon.
Bridge of Dragons is a film crying out for a UK video release, and is well worth tracking down if you're a fan of Lundgren. It is also another reason to keep an eye on the careers of both Isaac Florentine and Koichi Sakamoto's Alpha Stunts. If you're impressed by what they can do on these budgets, imagine what they could do with something Hollywood-size.
back to top