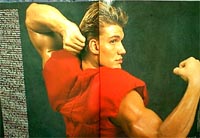 from The Face Magazine, Issue #69, January 1986
Nevermind the Issey Miyake lifejacket, here's Dolph Lundgren - 240 pounds of Swedish 26 year-old, a former Zoli model, Grace Jones' fiancee and, as far as we know, the world's first self-inflating superstar. We're talking serious humility deficiency but that's understandable when Sly Stallone sees fit to pull you out of Rambo in order to save you for Bigger Things, namely a co-starring spot in Rocky IV (released Jan 24). Dolph is the Eastern Block: Rocky's arch rival, Captain Ivan Drago, a comic strip commie who ultimately wins himself a one-way ticket to Siberia. 8000 applicants were screened for the role and Dolph, who at 6'6" (that's five inches taller than Stallone) was at first deemed too tall. "They told me to forget it but I knew the part was perfect for me," he says, sounding not a bit like a well-known Muppet Chef. Egged on by acting coach Warren Robertson - a Rajneesh disciple and guru to Matt Dillon and Jessica Lange.
Dolph went back in for the kill and came back out with the part, figuring he did the casting directors a favour. "After all, not many people look Russian, box, are tall and can act," he quips. The word "fail" doesn't have a place in his vocabulary ("Have I ever really failed? Only at partial objectives"). The young Swede learnt Russian, gave up red meat and worked out with "great guy" Sly for six hours a day, developing those all important pectoral areas. He also dropped the name Hans because it sounded "too Germanic". Besides "Dolph is more mysterious, it looks good in lights and has an 'O'. All the big stars have got an 'O'; Monroe, Brando." With a "serious" work-out tape due this Christmas, a fast developing chain of swish restaurants (target customer Rob de Niro) and three film properties he's hoping to push through Dolphin, his own production company, Dolph has every intention of becoming transglobal. He's also working on a couple of film treatments of which the most likely to succeed is Interstate 10, a road movie starring Dolph as a rubber burning biker escaping some "heavy shit in Miami" who picks up Grace Jones adrift from a Paris nightclub on the way.
The happy couple met three and a half years ago when Dolph, the European kickboxing champion and a Sydney University chemistry scholar at the time, found himself backstage in Ms. Jones' dressing room one night. They've since set up house together in New York and Grace has been taken home to meet the folks in Stockholm, who were understandably a little nervous at the prospect, having seen her Demolition Man video. But there was no need for hard hats since Grace is apparently "very gentle, a real family person" and everyone got along famously. Domestic bliss aside, Dolph's goals in life are modest. 1) To be healthy 2) To be happy and 3) To have a good career. "But since I'm healthy and happy I'll worry about getting the next movie and paying the bills." With five offers to consider and inflation being what it is, that's no joke.