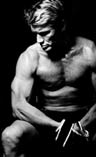 I haven't found much about deleted scenes in Dark Angel, even if I wondered if there wasn't a former version of the script where Talec (bad alien) make other alien friends come to Earth.
Also, Dolph told that his character was supposed to be funny in the original draft of the screenplay :
Dolph Lundgren: "Originally, the script was softer, funnier-it was almost slapstick. Caine's character was more of a caricature ; we made him tougher, more severe, we gave him more initiative and presence. In the original script we almost never saw him act, he didn't understand much of what was going on around him. With an actor like myself, the physical aspect must be more important, and we had to temper this humorous dimension.
-Was there a lot of humorous lines cut from the script? Your character is almost mute...
No, we didn't cut much, we only changed the tone of some lines. And we replaced some dialogue scenes by action scenes telling the same ; we talked too much in the first draft of the script... But I think that the balance of the film was respected." interview exerpt from L'Ecran Fantastique, 119, February 1991 (translated from French)
It also seem that Dolph Lundgren was first approached to play the alien but he refused that :
Craig Baxley: "Dolph Lundgren's casting was also a draw. Baxley had no say in picking the muscular actor, but once Lundgren was given the nod, it oppened new possibilities. 'Originally,' Baxley explains, 'I thought Dolph would be the alien, not the cop, and that interested me. I thought that if he was the alien, this picture would do for Dolph what Terminator did for Arnold Schwarzenegger. But when I found out Dolph would be the police detective, the film took on a new light.' " from Starlog, #158, September 1990

Matthias Hues remembers in an interview:
"I think I born to play this guy. When I went in to read for director Craig R. Baxley, he said: today is your lucky day, this role is written for Dolph but he doesn't want to be the alien-- which is actually the star of the movie. Do you want it?"