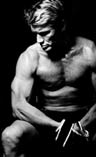 Dolph Lundgren muscles his way to movie stardom

By Jae-Ha Kim, Chicago Sun-Times, November 4, 1986

WHITTIER, Calif. -- Before he hit it big last year as the Russian boxer in "Rocky IV," Dolph Lundgren was best known as the boyfriend of singer/actress Grace Jones. Today, the Swedish actor doesn't have a steady girlfriend. He's too busy starring in "Masters of the Universe" for Cannon Films.
Lundgren also is being recognized in Chicago as the model for posters promoting the 22nd Chicago International Film Festival, which runs through Nov. 13.
Standing just under 6 feet 6 inches and weighing 245 pounds, Lundgren no longer looks like the Soviet villain he portrayed in "Rocky IV." Also gone is the Russian accent he practiced for the role.
Lundgren was born and raised in Stockholm. "As a child, I was short," he said. "Not very, very small, but below average. I had a complex about it, and that's the reason I got into sports. I kind of picked combat sports because they're tough and so forth. I started doing judo and karate and lifted weights. By the time I got in my
teens, I started growing and getting taller. When I was 19, I was actually getting very good at sports, and so I started competing at a world-class level."
Lundgren won the European heavyweight kick-boxing championship in 1980 and 1981, and the Australian full-contact karate championship in 1982. He also attended school full-time at the Royal Institute of Stockholm and the University of Sydney. After graduating with a degree in chemical engineering, Lundgren served the one-year mandatory term in the Swedish army, specializing in anti-chemical warfare and teaching hand-to-hand combat. Then he went to New York to model before enrolling at the Massachusetts Institute of Technology on a scholarship.
"I spent a short time working on my master's degree before deciding to go to New York and try show business," Lundgren said. "I've been around the world twice to promote `Rocky IV.' I'm very lucky that Sly (Sylvester Stallone) selected me for the role. Now, it's my turn to prove that I'm an actor and not just a personality."
Photographer Victor Skrebneski had been aware of Lundgren because of the publicity surrounding his relationship with Grace Jones. After seeing "Rocky IV," Skrebneski decided he wanted to photograph Lundgren
for the Film Festival poster. When Lundgren flew into Chicago last June to pose for skin-care photos, the photographer asked if he would like to be on the poster.
"We had on hand a certain amount of festival T-shirts, and none of them were big enough for him," recalled Skrebneski. "So he ended up ripping one apart and stretching it over his body." "I wanted to look rough," said Lundgren. "I didn't want it to look too clean, so we just created some, um, atmosphere."
In "Masters of the Universe," Lundgren portrays the cartoon character He-Man. As the strongest man on Eternia, He-Man must save damsels in distress, fight off evil monsters and save his planet from destruction.
"I chose `Masters' because He-Man is like the Superman of the '80s. He's an old-type hero who doesn't kill people. He cracks jokes, he's intelligent, he's strong and he's a role model for kids."