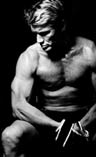 OLYMPICS:
Action Heroes Actor and Olympic Team Leader Dolph Lundgren inspires Pentathletes to run, jump, swim, shoot and parry for the Gold this Summer

by Mary Sutter, InStyle, July 1st, 1996

Well before he packed the action into his movie roles, Dolph Lundgren made his mark as a world-class athlete in martial arts. A former karate team captain in his native Sweden, Lundgren is now going to the 1996 Summer Olympics, in Atlanta, for his latest role--as the U.S. modern pentathlon team leader. "In taking care of the team, there is so much more real responsibility than being a film actor," says Lundgren.
When he was training for the film Pentathlon in 1993, Lundgren, now 37, became acquainted with the five-sports event. The oldest contest in modern Olympics, the pentathlon is based on the challenges military couriers faced: shooting, swimming, riding, fencing and running. To prepare for the movie version, Lundgren followed a rigorous training regimen, during which he lost 20 pounds. "I'd run in the morning, then fence, eat lunch, then perhaps shoot, and ride in the afternoon."
Lundgren is used to getting physical on- and off-screen. "I had done a lot of body building after I did Rocky IV," Lundgren continues, "but the pentathlon movie started me off doing sports again." In addition, it won him the friendship and admiration of the pentathletes who helped him train. They lobbied for his Olympic involvement. "Dolph trains like a madman," says Mike Gostigian, the top-ranked U.S. competitor. "He is an inspiration to us."
As the liaison between the United States Olympic Committee and the team, Lundgren is more likely to be pushing paper than pumping iron. The job entails such unglamorous duties as filling out forms, arranging housing and transportation, and ensuring that uniforms and equipment are in order. Until the games are over, Lundgren has taken a hiatus from his acting career and his domestic life, with one noteworthy exception. He returned to Sweden for the birth of his first child, Ida Sigrid, on April 29.
Another first is around the corner. On July 19, Lundgren will accompany the team as they circle the Olympic Stadium for the opening ceremonies. They've already had a test run. "We looked up and there was not a soul there, but you still got that rush," he says. "When it's full of 80,000 people cheering, the President and other dignitaries, it will be an experience I am sure I won't forget." Audiences, even for an actor, don't get any better than that.