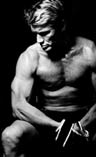 INTERVIEW

In the final part of our exclusive in-depth interview with Isaac Florentine, he discusses his working with Dolph Lundgren on Bridge Of Dragons and bring us up to date with the background on Impact favourites US Seals 2 and Special Forces.

Isaac Florentine
Renaissance man (part 3)

by Mike Leeder , Impact (UK), #143, November 2003

Mike Leeder: Your next project was Bridge Of Dragons, starring Dolph Lundgren, Cary Tagawa and HK actress Rachel Shane/Valerie Chow. What was the genesis of this project?
Isaac Florentine: Yoram Barzilai had worked with Dolph on a film called Sweepers, Dolph had expressed his frustration and stated that he wanted to make his next film with an action director, and Yoram suggested me. We met with Dolph at his New York Office, and our mutual martial arts background broke the ice between us when I saw this photograph of Dolph at the Kyokushinkai Dojo in Stockholm. I had gone there in 1980 with my teacher Tamas Weber and when I told him I recognized a number of the people in the photograph by name, we hit it off. Dolph agreed to do the film but on one condition, that we shoot after he had taken his third Dan in Kyokoshinkai. I was pretty happy with that news, as I knew Dolph would come to the film in peak physical condition and I decided to take full advantage of it.
I've always thought Dolph could have been and could have been a bigger star, how did you find working with him as both an action actor and a martial artist?
Dolph is a real gentleman. He's kind, easygoing and has a great sense of humour. He's also a very good Karateka and very intelligent. He brought his friend and Sensei Brian Fitkin to join us on the film, and the three of us used to train together a few times a week. Dolph gives a lot of respect to everybody he's working with, from the director to every member of the crew. I like working with this kind of person, as they become involved in the whole process of filmmaking, which should be regarded as a team effort.
The film also saw you combining martial arts action courtesy of Yuji and Alpha Stunts and some high-octane gunplay and stunt work. How much input do you have into the choreography? The fight on the poles, did that idea come from you or Yuji?
I had developed the idea for the pole fight as we were putting the script together, and we wanted to show Rachel Shane/Valerie Chow's character had her own fighting style. I wanted to add something that was more sophisticated and skilled than simply fighting, and the pole idea came to mind. Yuji and Tatsuro Koike, his assistant, came back to me with a detailed fight and I adjusted a few little bits so we could keep it grounded in realism and fit it into the tight shooting schedule we had.
The film saw you filming behind the Iron Curtain, how did you find shooting in Eastern Europe?
There's a Hebrew saying, 'others learned to shave over my head', and that's what happened to me in Bulgaria. It was the first action film ever shot there, and the crew was used to the slow sedate Soviet way of filmmaking until we arrived. Now they've shot a lot of action films there and are fantastic but at the time it was tough. Certain job titles such as assistant director seemed brand new tot them, we had promises of Army support that we weren't sure we would get until they turned up ten minutes before call time, not to mention an inexperienced sfx pyrotechnics team. After we wrapped we had some bad luck too, certain sections of the film were unusable and badly scratched as we had defective film stock, and so we had to reconstruct the movie in the editing, working around certain shots and scenes. We also discovered that our final epic crane shot of Dolph and Rachel kissing with a beautiful backdrop was unusable too, we'd been using the AVID system for editing instead of really seeing dailies and while it looked fine on the small screen, once it was blown up we could see there was a problem with light seeping into the magazine, and we had to try to salvage the scene by recutting and relooping dialogue. It was frustrating to say the least. But it was a good experience, and we laid the foundation for a number of other action movies shot there, and that helped us a great deal when we returned for US Seals 2.

[…] exerpt from Impact, November 2003